Are you looking for an effective treatment for your infertility?

Well, consider homeopathy as your best remedy. At Sai Gayatri Homeo, we provide the best homeopathic medicines for azoospermia and all other issues related to infertility.

Visit us to avail of the safest homeopathy treatment at an affordable price in Kukatpally, Hyderabad.
Our highly experienced physician Dr. Pavan Aravind Kumar, has immense knowledge of male infertility in homeopathy medicines. The treatment is beneficial, and as a result of the treatment, you will permanently get rid of infertility.
What is male infertility?
Near, about 15 % of couples are infertile throughout the world. Here, male infertility is one of the reasons which need proper care. Male infertility is a kind of health problem in men, which lowers his female partner's scope of becoming pregnant.
What are the causes of male infertility?
The causes of male infertility are as follows-
Lifestyle habits like deficient nutrition: It includes unhealthy improper food intake whereas, inclination towards junk foods.
Drug consumption: Certain prescribed drugs can lead to infertility.
Smoking: Smoking is another reason for your infertility.
Undescended testicle aging: In this case, you require proper treatment because it can lead to infertility.
Hormonal disorders: Even your hormonal disorder can lead to infertility.
Again, poor sperm motility, low sperm count, and obesity can also hamper your fertility treatment.
Symptoms of male infertility:
The symptoms of male infertility are as follows-
A low desire for sex
Fewer sperm counts
Difficulty in erection
Pain and swelling in your genital
Retrograde ejaculation
What is azoospermia?
Azoospermia is a situation when your semen becomes completely sperm less.
Cancer chemotherapy, testicular dysfunction, or blockage in the tubules are the reasons for azoospermia. There is a massive scope of azoospermia treatment in homeopathy.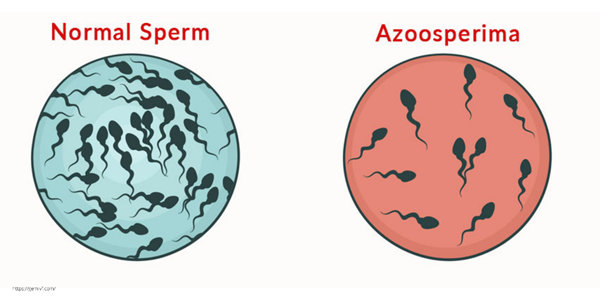 Diagnosis of male infertility:
The diagnosis of male infertility includes
Semen analysis: Semen analysis is fundamental in understanding the quality of your semen.
Hormone analysis: Here, we check the level of testosterone in your body. Along with testosterone, we perform other hormonal tests like Thyroid, FSH, LH, etc.
Testis analysis: Here, we examine your testis to identify if there is any problem or not.
Homeopathy treatment for male infertility:
It is a well-known fact that homeopathic medicines are natural, and they do not have any side effects. Any person who knows about his infertility problem can opt for homeopathy treatment for male infertility. Visit us to avail the best homeopathic medicine for male infertility treatment.
Homeopathic medicines for infertility treatment:
There are numerous options available in homeopathy for treating infertility in men. These options are as follows-
Agnus Castus- It is useful to increase the physical ability and sexual desire of a man.
Caladium- It is beneficial in treating impotence due to mental depression.
Selenium- It rectifies erectile dysfunction.
X-Ray- X-Ray is a valuable medicine in treating low sperm count.
Conium- It treats infertility due to orchitis and suppressed sexual disorders.
Caladium Seguinum (American Arum)- We recommend this medicine to combat erectile dysfunction and premature ejaculation.
Calcarea Carbinica- It is beneficial for your high libido and premature ejaculation.
Lycopodium- We use this medicine to treat increasing erectile power, early emission, etc.
We use all of these as homeopathic medicine for azoospermia.
Advantages of homeopathy treatment for male infertility treatment:
The advantages are as follows-
High success rate with safest modes of treatment.
The success rate of the treatment is about 85%.
Along with sperm count, the treatment increases the sperm motility, volume, abnormal morphology of your sperm.
The medicines we use do not have any hormones in them.
There will be no need for any other medication for seven to eight years.
The treatment is side less and effective.
Why choose Sai Gayatri Homeo Clinic for male infertility treatment?
We at Sai Gayatri Homeo Clinic have already treated numerous patients who had male infertility.
Our founder, Dr. Pavan Aravind Kumar, has more than 13 years of experience treating any disease with homeopathy medicines.
We believe in personalized care for the treatment of our clients.
We treat with all the latest and effective medicines that can work from the root of the problem.
In the beginning, we listen to your problem very carefully. Only then our consultation provides you the most suitable treatment.
Frequently asked questions:
1.What are the side effects of homeopathy fertility treatment?
There are no side effects in any of the homeopathy treatments. The only problem is it takes lots of time to show the complete result in some instances.
2. How long shall I continue the homeopathy infertility treatment?
The minimum requirement of the time is at least three to four months from the beginning of the treatment. You have to continue your treatment, at least for this time.
3. Are there any restrictions on food during the treatment?
No, there are no such restrictions during the treatment. But in certain exceptional cases, we can ask for a few changes in your regular diet.
4. What is the total cost of male infertility treatment in homeopathy?
The cost of treatment varies from patient to patient, keeping in mind their requirements. Book an appointment to know the exact cost of your treatment.